SECURITHERM therm sink mixer with swivel spou ut H230 L190
Product code: H9716
Price
543,00 €
inc. vat. 24.00 %
Deliverytime is about 10 days
SECURITHERM thermostatic sink mixer
Ref. H9716
SECURITHERM thermostatic dual control sink mixer, with swivelling tubular spout L. 190mm H. 230mm.
Anti-scalding failsafe: hot water shuts off immediately if cold water supply fails.
Spout with smooth interior and with BIOSAFE hygienic outlet, suitable for fitting a BIOFIL filter (reduces bacterial development).
Scale-resistant thermostatic cartridge for temperature control.
¼-turn ceramic head for adjusting the flow rate.
Temperature can be adjusted, with two temperature limiters: first temperature limiter set at to 38°C (can be overidden), and second temperature limiter set at 41°C.
Thermal shocks are possible.
Flow rate regulated at 9 lpm at 3 bar.
ERGO controls.
Reinforced fixing via 2 stainless steel rods.
Supplied with braided stainless steel flexibles made from PEX F3/8" with filters and non-return valves.
10-year warranty.
Advantages
SECURITHERM: Optimum anti-scalding safety
Spout with smooth interior, reduces bacteria
Thermostatic: complete temperature stability
Control knobs are easy to grip
Product code: H9716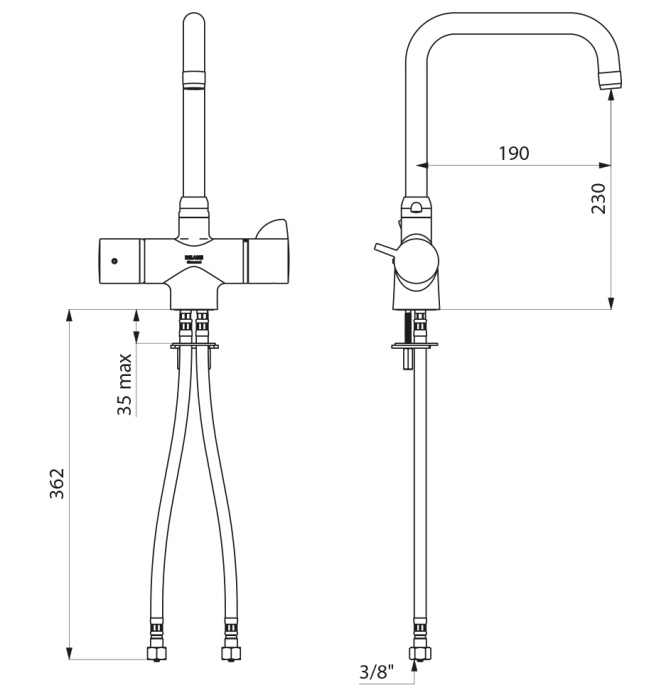 Products from the same product group: