SECURITHERM seq basin mixer H85 L120 lever L1 100 copper tails
Product code: H9600610L
Price
603,99 €
inc. vat. 24.00 %
Deliverytime is about 10 days
Advantages
Infection control

SECURITHERM: Anti-scalding safety

Single control opens and closes flow
SECURITHERM thermostatic basin mixer
Ref. H9600610LDeck-mounted SECURITHERM sequential thermostatic basin mixer H. 85mm L. 120mm, without pop-up waste.
Anti-scalding failsafe: hot water shuts off immediately if cold water supply fails.
Securitouch thermal insulation prevents burns.
No non-return valve on the inlets.
Straight spout with a hygienic flow straightener, no build-up of impurities and withstands thermal shocks.
Scale-resistant thermostatic sequential cartridge for single control adjustment of flow rate and temperature.
Adjustable temperature from cold water up to 40°C with maximum temperature limiter set at 40°C and the option to carry out thermal and chemical shocks.
Spout and body with smooth interiors and low water volume.
Flow rate regulated at 7 lpm.
No manual contact thanks to Hygiene control lever L. 100mm.
Supplied with copper tails and stopcocks in chrome-plated brass Ø 15mm.
Reinforced fixing via 2 stainless steel rods.
10-year warranty.
Product code: H9600610L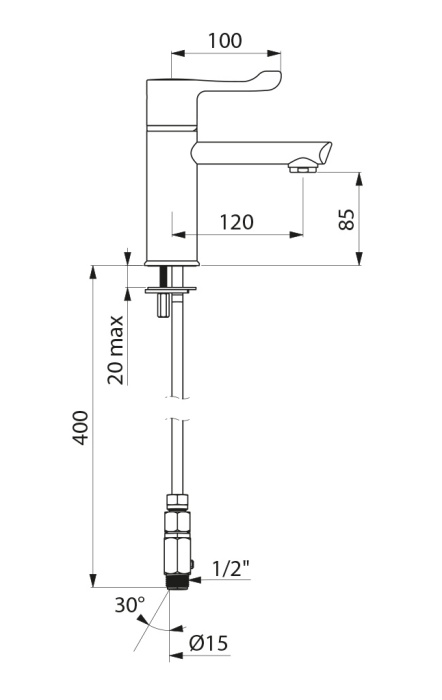 Products from the same product group: