Evopure TBS L water cooler, cold/cook
Product code: 0159500R
Price
2098,00 €
inc. vat. 24.00 %
Deliverytime is about 10 days
Evopure ToBeSure watercooler
Mains-fed coolers of the ToBeSure line
High performing filtration system by UV
Microbiological purification of water
100% Safety, 100% Reliable
Possible to add to the watercooler Watersafe and Water leak detector systems.
Integrated cup dispenser
For narrow environment
Usage:
Design, compact and reliable, ToBeSure EVOPURE cooler finds its place where is a need for a drinking fountain with pure water at anytime and especially in office area.
UV technology:
Equipped with a ToBeSure UV disinfection system, the secured water cooler Evopure ToBeSure is the solution for PURE WATER. ToBeSure system delivers an instant disinfected water without any front or back contaminations and offers at 100% to end-users in sensitive area a perfectly purified water from all waterborne bacteria.
Model options:
Cold – Ambient water (EF-ET)
Cold – Ambient – Hot water (EF-ET-EC)
Product code: 0159500R
Technical details
0159500R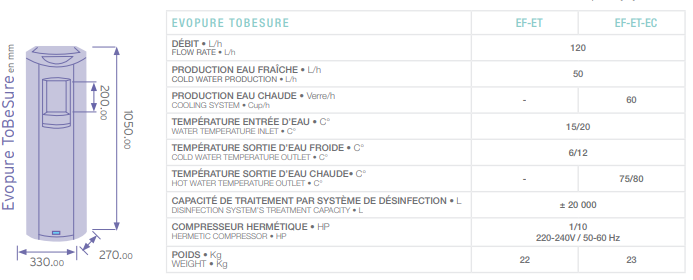 You might also be interested in these products: