TEMPOMIX recessed shower mixer M1/2 inch Ø1 sec plate Ø195
Product code: 790927
Price
406,99 €
inc. vat. 24.00 %
Deliverytime is about 10 days
TEMPOMIX shower mixer
Ref. 790927
Recessed time flow shower mixer
Standard recessing housing.
Chrome-plated wall plate Ø 195mm.
Recessing depth can be adjusted from 28 to 43mm
TEMPOMIX 3/4" single control mixer behind wall plate.
Ligature-resistant ring.
Temperature control and operation on the push-button.
Maximum temperature limiter (adjustable by the installer).
Time flow ~30 sec., soft-touch operation.
Flow rate 12 lpm at 3 bar.
M1/2" connectors for Ø 14mm copper tubes.
Integrated non-return valves and filters.
Chrome-plated metal control.
10-year warranty.
Advantages
Wall recessed installation.
Time flow system tested to over 500000 operations.
Soft-touch operation.
This model does not have a waterproof recessing box. The installer must ensure that the recessing area is waterproof and any leaks or condensates can drain away.
Product code: 790927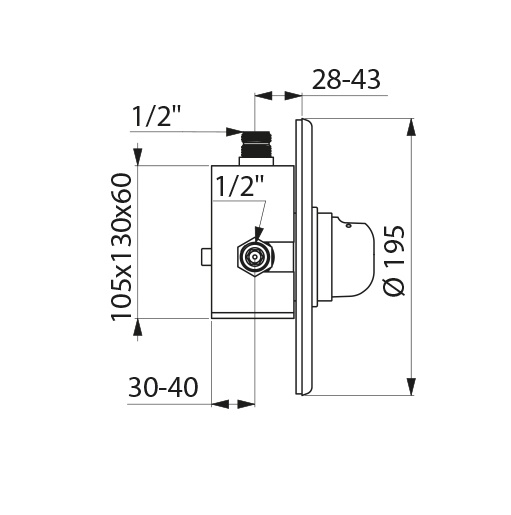 Products from the same product group: