TEMPOMIX c-wall 220 shower mixer kit M3/4 inc 30sec +
Product code: 794BOX1-794218
Price
617,52 €
inc. vat. 24.00 %
Deliverytime is about 10 days
TEMPOMIX 3 shower mixer
Ref. 794BOX1-794218
TEMPOMIX 3 recessed time flow shower kit:
Tamperproof chrome-plated metal wall plate 160 x 160mm.
Waterproof recessing housing:
- Collar with waterproof seal.
- Hydraulic connection from the exterior and maintenance from the front.
- Top inlet.
- Adjusts to all types of installation (rails, solid walls, cards).
- Compatible with wall finishes 10 - 120mm (while maintaining the minimum recessing depth of 93mm).
- Suitable for standard pipe supply or "pipe in pipe".
- Stopcocks and flow rate adjustment, filters, non-return valves and cartridge are integrated and can be accessed from the front.
- TEMPOMIX 3 single control mixer F½".
- Supplied in 2 kits: secure system flush without sensitive elements.
Temperature control and operation via the push-button.
Maximum temperature limiter (can be adjusted by installer).
Time flow ~30 seconds, can be adjusted.
Soft-touch operation.
10-year warranty.
Advantages
Soft-touch operation.
Recessed installation, concealed fixings.
Adjustable, modular waterproof housing.
Time flow system tested to over 500,000 operations.
Product code: 794BOX1-794218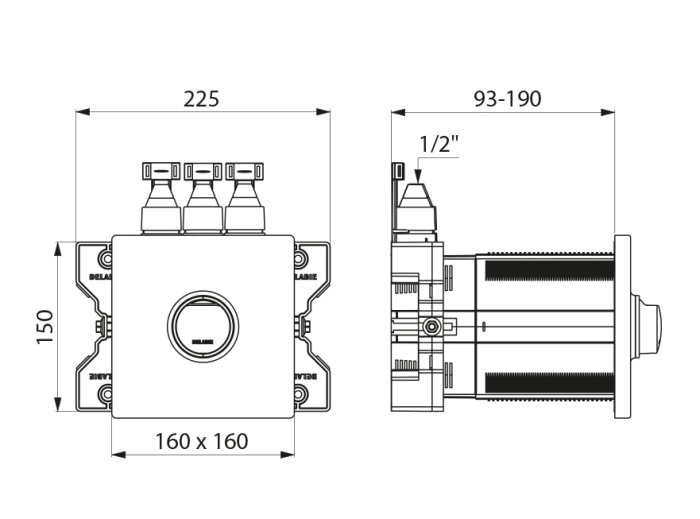 Products from the same product group: