Wall mtd elect tap with BIOCLIP disposable sp pout, panel fix
Product code: 20801T2
Price
586,99 €
inc. vat. 24.00 %
Deliverytime is about 10 days
Electronic tap for sinks with BIOCLIP removable spout
Ref. 20801T2
Wall-mounted electronic tap with BIOCLIP spout for mounting on cards < 20mm.

Independent IP65 electronic control unit.

Mains supply with 230/12V transformer.

Flow rate limited to 5 lpm at 3 bar.

Supplied with 1 disposable Hostaform® spout L. 188mm Ø 22mm.

Spout and base with smooth interiors (fewer niches where bacteria can develop).

Adjustable duty flush pre-set at ~60 sec. every 24 hours after the last user to prevent stagnation in the water supply if the system is not used for prolonged periods.

Ø 60mm chrome-plated brass base and separate detection sensor for card mounting.

Supplied with M3/8" 12V solenoid valve with integrated filter.

Shock-resistant infrared presence detection sensor.

Anti-blocking security.

Two shut-off options:

Standard mode: timed flow with automatic shut-off;

ON/OFF mode: user shuts off flow voluntarily or automatic shut-off after 30 minutes.

10-year warranty.
Advantages
Automatic anti-bacterial proliferation duty flush.

BIOCLIP spout for internal cleaning and descaling.

Spout with smooth interior reduces bacteria.

Infrared detection with no manual contact.
Product code: 20801T2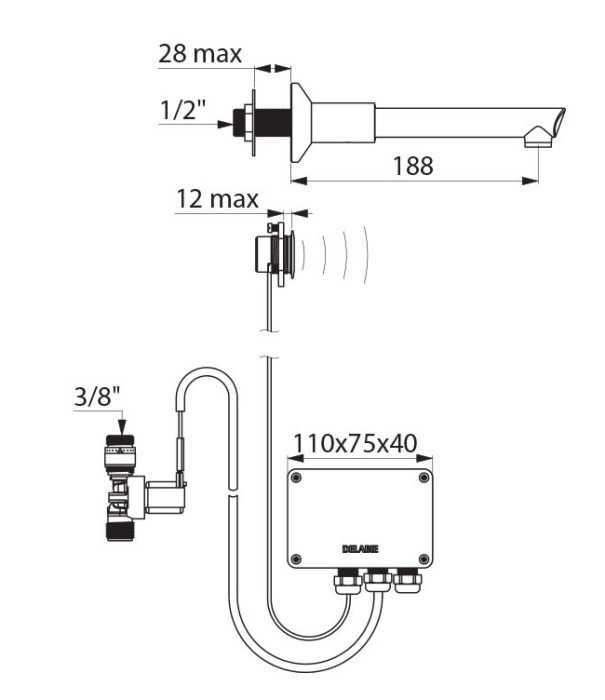 Products from the same product group: