BIOCLIP Basin Mixers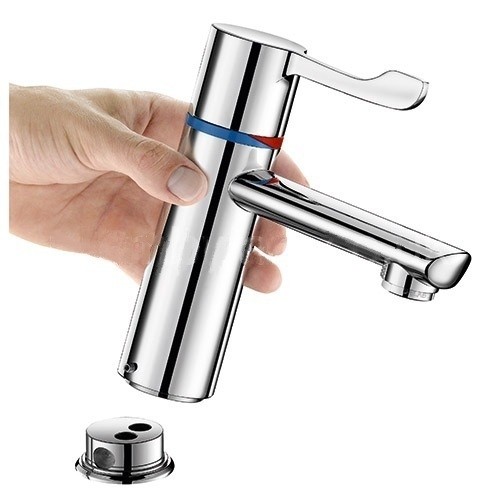 BIOCLIP removable mixers and taps for cleaning/disinfection
The BIOCLIP range of mixers and taps can be fitted with specialist spouts and/or the whole interior can be cleaned –
the only way to eliminate biofilm completely - helping to fight effectively against bacterial development.
• Mixers with removable BIOCLIP spouts
Depending on the model, mixers are supplied with two stainless steel spouts or one disposable spout. Alternative options are:
- Stainless steel spouts: the second stainless steel spout ensures continuous use while the first is being cleaned.
- Disposable spouts: each spout must be replaced periodically, depending on the type of installation.
- BIOFIL filtration spouts: these spouts guarantee the bacteriological quality of the water.
• BIOCLIP removable mixers
Mixers that can be completely removed from their base for curative or preventative measures in healthcare facilities:
- Curative action: bacteriological monitoring in healthcare environments sometimes requires remedial action.
If mixers and taps are contaminated by Pseudomonas aeruginosa or Legionella etc.,
they can be easily removed by maintenance staff to enable the interior to be completely cleaned.
- Preventative action: to minimise bacterial proliferation in mixers and taps,
we recommend concentrating on preventive measures.
BIOCLIP mixers and taps allow healthcare facilities to establish regular cleaning protocols
(from every 6 months to every 2 years depending on the type of facility) to eliminate biofilm and bacteria.