AQVA SAIMAA Reverse Osmosis System. 40 - 105 L/h pure water inc.200 water tank
Product code: AQ011-1
Price
2750,00 €
inc. vat. 24.00 %
Reverse osmosis assembly that produces 960 to 2520 liters of pure water per day from municipal-, card card-body- or lake water.

The reverse osmosis unit does not use electricity! Operates solely by the pressure of the pump or from any pressurized constant water supply.

A unique valve solution automatically controls the unit. The amount of mechanical components is minimized, taking the system reliability into new level.
It is enough to cover the water consumption of an average family, up to 6 family members or more.
Also removes otherwise difficultly removable compounds such as uranium, arsenic, fluoride and chloride. Provides clear and clean water even from difficult water sources. The solids and organic matter content of the lake or river has some influence on the life span of the filters, but usually the prefilter is replaced once or twice a year and the osmosis membranes once a year.
Includes three phase prefilter for solids, organic matter and iron removal, AQVA L-size filter set.
Produces purified water, into a 200 liter tank, which is included in the package. Tank acts as an uninterrupted reservoir during the water consumption peaks. (other tank sizes and shapes available also)
In the water tank the surface of the water is adjusted by the automatic float valve. When water is used, a water channel opens, whereby the reverse osmosis opens the water channels to keep the tank full.
Water purification capacity at 4 bar, feed pressure, for example from a card card-body- or bore hole pump, is 2520 liters from fresh water in 24hours or 105 liters in a hour.
Minimum recommended input water pressure 2 bar. Maximum input pressure 6bar.
The package is not suitable for cleaning seawater, but for the purification of moderately salty water yes. From the "technical data" tab you can find water production rates for various salt concentrations, various pressures and water temperatures.
The system includes:
(For more details, see the "Specifications" tab)
AQVA RO-2 reverse osmosis unit (product code: AQRO-POE)
Three-stage prefilter for solids, organic matter and iron, as AQVA L-size filter pack. (product code: HB101MHUFE)
200 liter water tank with the necessary tubing, fittings, valves and automatic filling valve. (product code: 14020)
One micrometer air filter, to protect water tanks intake air quality (product code: AQ10PS1)
Silent (47dB) distribution pump from water tank to consumption, Grundfoss constant pressure type. (Product Code: Scala2)
Post filtering in the AQVA M-size enclosure (product code: 050403), which ensures the hygienic quality of the water taken from the water tank.
A neutralization filter package that adjusts the pH to suit the water supply to the distribution network. Contains natural calcium. (product code: AQ20BBCAL)
Couplings for connecting a reverse osmosis device to a prefilter and water tank
Product code: AQ011-1
AQVA Reverse Osmosis Unit:

Product that takes into account genuine conditions of use and ease of use.

Works without electricity and fault-tolerant automation or pressure pumps. Needs only constant feed water pressure. Functional reliability is based on a unique valve solution, standard type and compatible reverse osmosis membranes that perform the actual purification.

Water flow velocity meters shows the operation of the device and filter replacement needs.
Features:
Almost maintenance-free. Only occasional replacement of filters, which is easy to do even by for yourself.
Small and lightweight unit coupled with JG-type quick fittings.
Only one mechanical moving part, automatic valve.
Works with card card-body-, bore hole- or water network feed water pressure.
The higher the pressure, the higher the yield of purified water.
The amount of flushing (drain) water is adjustable to save water and adjust the flow rate of pure water.
Eliminates all water contaminants, with the exception of some gaseous, 85 to 99.9999%.
Suitable for cleaning lake- and river water, card card-body- and municipal waters. Suitable for the purification of salty water, if the TDS value is below 2500mg/l.
Used to produce water in to a non-pressurized vessel or directly into a separate tap.
Purifies for example:
Bacteria, viruses, cysts, yeasts and molds
Manganese
Sulfur, hydrogen sulphide
Iron
Uranium
Organic matter (COD, KMnO4, permanganate)
Fluoride
Chloride and salt. Removes more than 85%.
Odor and taste
Limescale
Softens water
Hormone antibiotic and drug residues
pollution
color
Agricultural and industrial residues
Technical information:
Size: Width 440mm, depth 150mm, height 420mm
Weight: 11.00kg
Meters: Flow rate of purified water and flow rate of flushing water (drain)
Adjustments: Flow rate of flushing water (drain)
Installation: Level or wall mounting with screws
Osmosis membranes Type 3012-500 with product code AQ061
JG-Quick Connectors: Clean water 1/4 "inch hose, Flushing water 1/4 "inch hose, Water supply 3/8 "inch hose.
Purified water production rate examples:
TDS value 140, water temperature 10C, feed water pressure 4bar. = 57 liters per hour.
TDS value 60, water temperature 20C, feed water pressure 4bar. = 105 liters per hour.
TDS value 1300, water temperature 20C, feed water pressure 4bar. = 51 liters per hour.
TDS value 2500, water temperature 20C, feed water pressure 4bar. = 33 liters per hour.

* Typical TDS value examples:
60 lake
140 buckets of bucket or municipal water
1300 card card-bodys with chloride
2500 card card-bodys mixed with a little seawater

Three-stage prefilter unit with product code HB101MHUFE:
Protects and increases the life span of the RO-unit membranes.
Pressure gauges on both the inlet and outlet sides of the unit, which makes it easy to see if there is need for a filter replacement.
1 "inch internal brass reinfoced threads
Compatible with all AQVA L size filters
Stand on rubber bushes or mount on the wall
Size: K470 x L540 x S220mm
Water tank, product code 14020:
Capacity: 200 Liters
Height: 1190 mm
Diameter: 520 mm
Liter scale, with a resolution of 5 liters
Food Grade Quality
White
Mainenence cap 150mm radius

Feed pressure pump with product code Scala2:

Quiet and compact
SCALA2 is extremely quiet - in typical use, its sound level is only 47 dB (A), which corresponds to the sound of a modern dishwasher. Small unit.
Intelligent control - adjustable constant pressure
Water cooled permanent magnet motor
The dry-running protection
Self-extinguishing up to 8 m
A clear and simple operator card
Easy emptying and bleeding
All-in-one solution - easy to install
Technical information
Voltage: 1x200-240 V, 50 Hz
Maximum suction depth: 8 m
Max lifting height: 43 m
Max. Operating temperature: +55 ° C
Max liquid temperature: +45 ° C
Max. System pressure: 10 bar
Weight: 10 kg

Post-mineralization unit with product code: AQ20BBCAL:
The package includes AQVA XL size filter housing (FH20B1-B-WB) pressure gauge, mounting bracket, housing clamp key and filter (CALBB20) filter.
No significant drop in pressure
Typical flow rate up to 15 liters per minute
1 "inch connectors.

Post Filtration Unit:
Includes AQVA M-size filter housing and ultrasonic filter with product code 050403
No significant drop in pressure
Typical flow rate up to 15 liters per minute
3/4 "inch connectors.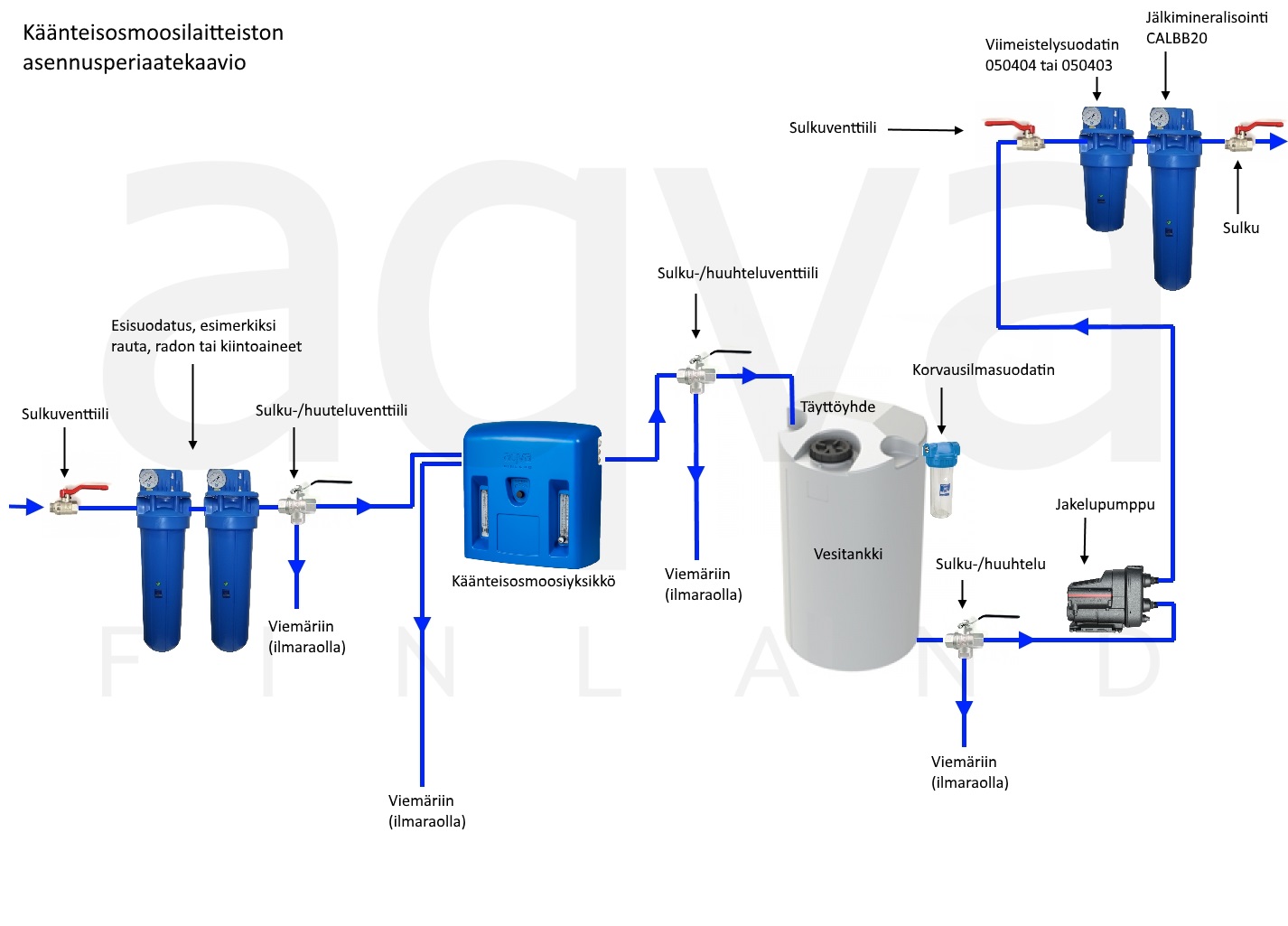 You might also be interested in these products: